This morning, after Teyla and Kieran and I had dropped the older kids at school, a blur of quick hugs and brittle air and rushed squeaky footsteps through fresh snow, we drove straight home to enjoy the morning.
It was good to be home, toy-strewn and warm. Kieran had fallen asleep snuggled in his parka, so I wore his chubby face on my shoulder as Teyla and I carried upstairs supplies to play restaurant.
I grabbed my laptop, mostly so I could email Corey, en route to Orlando. But then I started replying to a few other emails. And I opened Twitter and clicked through to a few blogs. And in-between the bits and bytes, my daughter stood next to me, wearing make-believe headphones, and asking me what I would like for breakfast.
"Do you want caw-key, Mama?" she asked.
"Yes, Teyla. I would love coffee," I answered distractedly, my eyes barely leaving the keyboard. I only had a few more sentences to type to wrap up that email and then I would pay attention.
"Which ones do you want, Mama?" she asked, holding out identical sets of plastic pickles.
"These ones," I pointed vaguely, aware that she would give me the pickles she wanted me to have regardless of which ones I chose.
The baby slept, the toddler kept chattering to herself and to me.
I never stopped typing.
And then, the baby woke up. And I looked up. And the toddler, she had gone on to another toy, another game of make-believe because I wasn't paying attention to the one she was playing with me.
I had missed it.
I had missed it.
How often do I do that? How often do I live with blinders on, distracted and preoccupied? I live life as if it were a giant To Do List, as if my efficiency and organization will follow me into eternity. How often do I parent on auto-pilot, caring more for my chidren's needs than their hearts?
My soul throbbed at the realization of what I had casually thrown away.
My gifts. Each day.
Lord, teach me to treasure them. Teach me to see eternity. This year, this year of Sabbath, teach me a new habit. Slowly, falteringly, open my eyes to the real. Every day. Every moment.
Teach me to love well.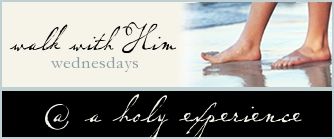 ---
Surely, if you are online, you know Ann Voskamp's much-anticipated book "One Thousand Gifts" was released yesterday. (And quickly shot to #7 on Amazon's best seller list; watch the video for a perfect description of her work.)
Maybe, like me, you would like company on this walk of grace, this discovery of God's gifts in the everyday? There is a community for this journey. I would love to see you there.